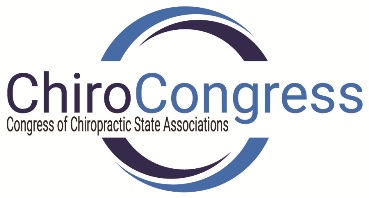 For Immediate Release:
February 8, 2023
Press Contact: Lizz Klein, Executive Director
We are pleased to announce the appointment of District 3 representatives who were approved by a unanimous vote of the ChiroCongress Board of Directors.
Please join us in welcoming District 3 Director, Dr. Glenn Jaffe (NC) and Dr. Winston Carhee (GA), who will be serving as the District 3 Representative to the Clinical Compass Board of Directors.
Dr. Glenn Jaffe has served 9 years as a member of the NCCA (North Carolina Chiropractic Association) board, including 2 years as president. During this time, he was honored by his peers as the 2014 NCCA Member of the Year and NCCA 2021 Doctor of the Year as well as receiving the Legacy of the Long Leaf Pine in 2022, which honors many years of service and effort to the advancement of chiropractic in North Carolina and service to the NCCA. Receiving a Doctor of Chiropractic degree in 2002 from National University of Health Sciences, Dr. Jaffe has owned and operated Jaffe Chiropractic in Charlotte, NC since 2006. Dr. Jaffe, his wife Tami and their daughters reside in the Charlotte area where they enjoy all the trappings of life in the Carolinas.
Dr. Winston Carhee is the founder and director of Pain 2 Wellness Center, L.L.C. located outside Atlanta in the City of South Fulton, GA. Dr. Carhee received his undergraduate degree from Morehouse College, his Doctorate of Chiropractic degree from Life University, and holds post-graduate certification as a Chiropractic Sports Physician (American Chiropractic Board of Sports Physicians). Dr. Carhee is extremely active throughout the community serving as Past President of the Cascade Business and Merchants Association, Past President of Sandtown Community Association, Georgia Chiropractic Association Member, Georgia Chiropractic Association (GCA) Political Action Committee Member, American Chiropractic Association, Chiropractic Summit – Government Relations Committee, Past President of the American Black Chiropractic Association, and a member of Accident Works of America. He is an affiliate member of the Atlanta Medical Association, Georgia Association of Paralegals, and the Gate City Bar Association
In addition, the 2023 committee members were seated and are comprised of leadership from the ChiroCongress Board of Directors, past board members, and state association members. Our committee members are active in their associations and throughout the profession as leaders. We are grateful for their commitment to helping ChiroCongress achieve its mission and goals. Please visit https://chirocongress.org/committees/ to learn more about the various committees and positions held by our members.
For additional information or to find out how to get involved with ChiroCongress, please visit us online at https://chirocongress.org/, contact Executive Director Lizz Klein at 503-922-2933, or email lizz@chirocongress.org.