ChiroCongress Corporate Alliance Partner Program
The ChiroCongress Corporate Alliance Partner program is designed to provide our partners with marketing access to our members and over 30,000 chiropractors in our network. Our partners are committed to supporting ChiroCongress in its mission and striving to ensure the Chiropractic profession thrives.
From providing support for key strategic initiatives to helping ChiroCongress deliver amazing networking and community event experiences, our partners continue to make ChiroCongress a successful organization. To learn more about this program, CONTACT US.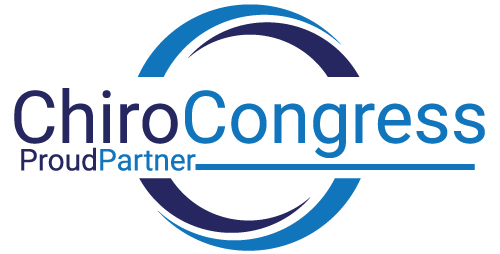 Disclaimer: Convention and event sponsorships are separate from the Corporate Alliance program. However, special priority is given to Alliance Partners for Annual Convention participation.
Corporate Alliance Partnerships at a Glance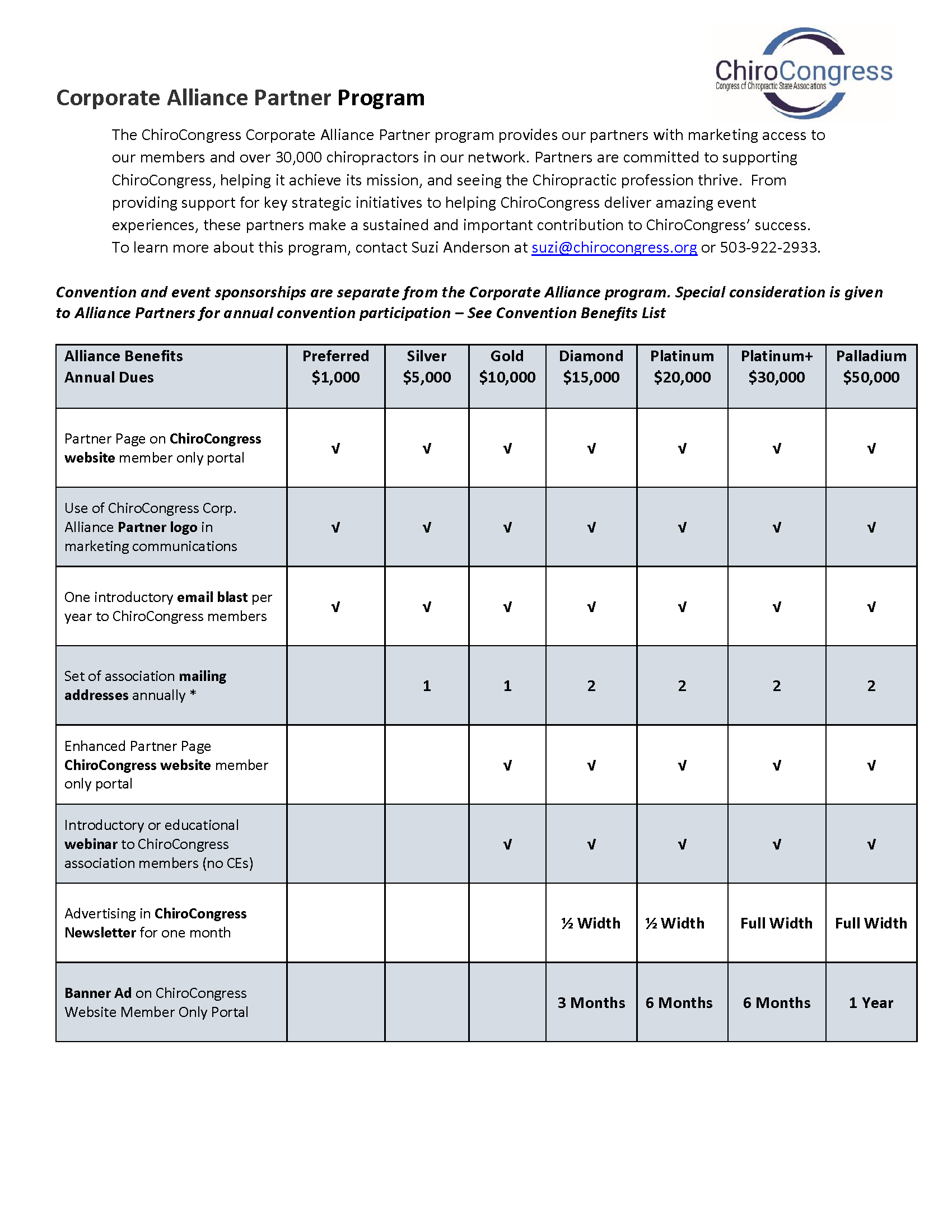 Interested in sponsoring at the  Annual Convention or one of our other events?
We offer a variety of sponsorship levels starting at $3,000. You can visit our Convention Page to learn more. Please fill out the contact form or email info@chirocongress.org
 for sponsorship inquiries. 
Corporate Alliance Partner Program Levels
Preferred $1,000/annually
Partner Page on ChiroCongress website member only portal
Use of ChiroCongress Corp. Alliance Partner logo in marketing communications
One introductory email blast per year to ChiroCongress members
Silver - $5,000 Annually
Partner Page & Individual info page on ChiroCongress website member only portal
Use of ChiroCongress Corp. Alliance Partner logo in marketing communications
One introductory email blast per year to ChiroCongress members
One set of association mailing addresses annually *
Gold- $10,000 Annually
Enhanced Partner Page on ChiroCongress website member only portal
Use of ChiroCongress Corp. Alliance Partner logo in marketing communications
One introductory email blast per year to ChiroCongress members
One set of association mailing addresses annually *
Introductory or educational webinar to ChiroCongress association members (no CEs)
Diamond - $15,000 Annually
Enhanced Partner Page on ChiroCongress website member only portal
Use of ChiroCongress Corp. Alliance Partner logo in marketing communications
One introductory email blast per year to ChiroCongress members
One set of association mailing addresses annually *
Introductory or educational webinar to ChiroCongress association members (no CEs)\
½ Width Advertising in one month of ChiroCongress Newsletter
Banner Ad on ChiroCongress Website Member Only Portal for 3 months
Platinum- $20,000 Annually
Enhanced Partner Page on ChiroCongress website member only portal
Use of ChiroCongress Corp. Alliance Partner logo in marketing communications
One introductory email blast per year to ChiroCongress members
One set of association mailing addresses annually *
Introductory or educational webinar to ChiroCongress association members (no CEs)
½ Width Advertising in one month of ChiroCongress Newsletter
Banner Ad on ChiroCongress Website Member Only Portal for 6 months
Platinum + - $30,000 Annually
Enhanced Partner Page on ChiroCongress website member only portal
Use of ChiroCongress Corp. Alliance Partner logo in marketing communications
One introductory email blast per year to ChiroCongress members
One set of association mailing addresses annually *
Introductory or educational webinar to ChiroCongress association members (no CEs)
Full Width Advertising in one month of ChiroCongress Newsletter
Banner Ad on ChiroCongress Website Member Only Portal for 6 months
Palladium - $50,000 Annually
Enhanced Partner Page on ChiroCongress website member only portal
Use of ChiroCongress Corp. Alliance Partner logo in marketing communications
One introductory email blast per year to ChiroCongress members
One set of association mailing addresses annually *
Introductory or educational webinar to ChiroCongress association members (no CEs)
Full Width Advertising in one month of ChiroCongress Newsletter
Banner Ad on ChiroCongress Website Member Only Portal for 1 Year